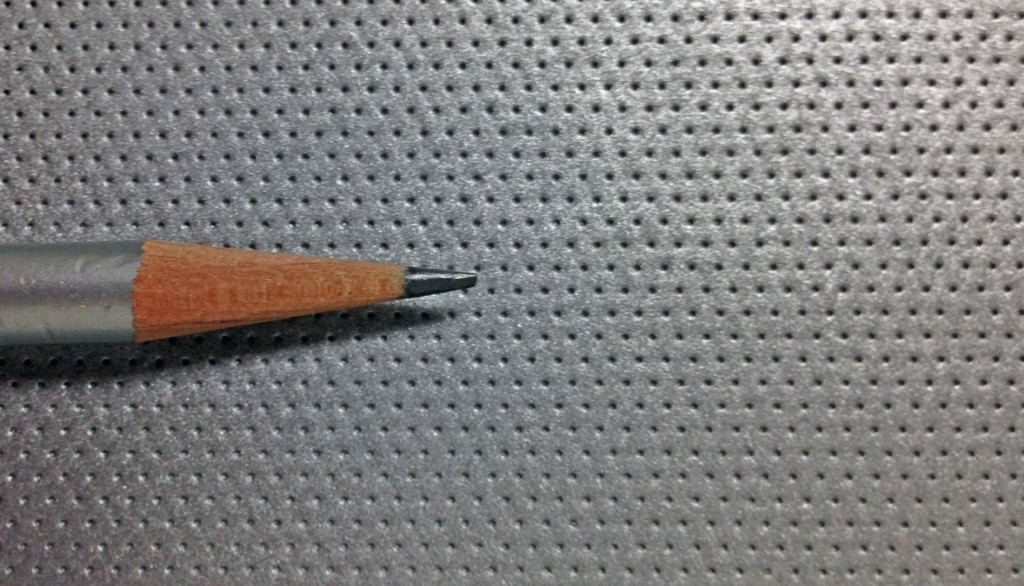 ---
Severtson MicroPerf: Stunning visual and acoustic performance.
---
The Most Advanced 3D Acoustic Material in the World.
Micro-perforation (MicroPerf) screens are the preferred choice for high-end, premier theaters. The Severtson MicroPerf viewing surfaces significantly reduces moiré which is often problematic of screens with larger perforation, yet continues to provide a more realistic soundstage allowing speakers to be placed directly behind the screen.
The practically invisible pinpoint holes in the material allow sound to be smoothly transmitted through the material while preserving audio quality. Severtson MicroPerf projection surfaces offer up to 15 percent better sound transfer over standard perforated screens, while providing optimum visual performance at the same time, resulting in the ultimate audio and video experience for theater customers.
Comparison
| Standard Perf | MicroPerf |
| --- | --- |
| 1.30 mm hole size | 0.55 mm hole size |
| Square perforation pattern | Non-square perforation pattern |
| 4.76% open area | 7% open area |
Features
Nearly invisible perforations from six feet away.
Non-square perforation pattern and small holes significantly reduces moiré effect.
Optimal performance for 4K, 8K, and higher resolutions.
Improved image quality when viewing at close range.
15% better sound transfer than standard perforated screens.
Available in Matte White, Stellar White, and SeVision 3D GX.
Material and Coating Options
Available Products